Save the Date – Conversion Conference West 2010 – May 4-5, San Jose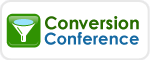 The inaugural Conversion Conference West 2010 (ConversionConference.com) focused exclusively on online conversion improvement will be held this May in San Jose, California.
Main conference will be on May 4-5, 2010
Pre-conference workshops on the afternoon of May 3rd, 2010.
Conversion Conference highlights:
Twenty six educational dual-track sessions (see agenda)
Three dynamic keynote presentations
Over 50 expert speakers and presenters
Industry leading companies in the expo hall
Birds-of-a-feather lunches
One-on-one consultations with the experts
Networking and parties
Confirmed speakers include:
Tim Ash – Conference Chairperson, keynote speaker, SiteTuners.com
Bryan Eisenberg – Keynote speaker, BryanEisenberg.com
Brian Clark – CopyBlogger.com
Lance Loveday – Closed Loop Marketing
Eric Hansen – SiteSpect
Larry Marine – Intuitive Design
Aaron Kahlow – Online Marketing Summit
David Szetela – Clix Marketing
Scott Brinker – Ion Interactive
Sandra Niehaus – Closed Loop Marketing
Byron White – IdeaLaunch
Matt Mickiewicz – SitePoint
Raquel Hirsch – Wider Funnel
Cindy Krum – Rank Mobile
Daniel Sevitt – EyeView
Brooks Bell – Brooks Bell Interactive
John Quarto-vonTivadar – Always Be Testing
John Cecil – Innovate Media
Rich Page – PageTesting.com
Conversion Conference will be run in parallel with the established  eMetrics web analytics conference and will share the vendor exhibit hall, lunchroom, and afternoon networking events.
Register by January 31, 2010 to get the double-early-bird rate.
Follow us on twitter @ConversionConf, and track the conversation with hashtag #ConvCon